June 30, 2023
We have a final update on last year's storm, and it's not what we hoped for.
Our original application to the Provincial Disaster Recovery Program regarding the July 18, 2022 tornado near Highway 523 was sent Oct. 14, 2022. It was rejected on Feb. 6, 2023, and we appealed it on March 7. Unfortunately, the appeal was denied June 26. We are disappointed but accept this is the end of the appeal process.
Since the day of the storm, we've done what we can, delivering waste bins to help with cleanup, providing lodging and support, clearing roads, placing barricades for security, and setting up free counselling services.
We will always advocate for our residents and are sorry to deliver this news.
March 7, 2023
Cypress County sent a letter in response to the appeal being denied.
February 28, 2023
On October 14, 2022, Cypress County submitted an application to the Provincial Disaster Recovery Program (DRP) in order to receive funding for both municipal and personal uninsurable damage and losses incurred as a result of the Hwy 523 tornado event on July 18, 2022. The application was submitted on behalf of both Cypress County and our residents who experienced significant financial loss. Our sincere hope is that you have been able to begin the rebuilding process and we look forward to continuing this with you as we move forward.
On February 6, 2023, Cypress County received notification from the Government of Alberta that our application for funding has been rejected. The provincial DRP has specific measures that must be satisfied in order for an application to be approved and any funding to be received including:
The disaster has threatened the economic viability of a number of people or business,
The cause of the disaster is considered extraordinary, and
The disaster must cause damage or loss for which insurance is not readily and reasonably available
As a municipality in Alberta, our relationship with our provincial partner continues to be critical for the overall success of our region. It remains Cypress County's position that the above criteria have been satisfied as a result of the tornado event. While we wish we could provide more positive news regarding funding availability, Cypress County will be appealing the decision to decline the original application to the Minister of Public Safety & Emergency Services. Unfortunately, we do not have a timeline on when the appeal decision will be readdressed.
November 3, 12 p.m.
Thanks to all who completed the property damage assessment form. Cypress County has now submitted our final application for funding and relief support to the provincial government.
While there is no timeline for response, if approved, those who have completed the form will be contacted and provided 90 days to gather all damage information and cost estimates of non-insurable losses.
We look forward to continuing to work through this event and provide the greatest support possible to our residents.
August 15, 10:40 a.m.
🗑️ The waste bins alongside Highway 523 have been extended again until Aug. 22.
August 10, 4 p.m.
Cypress County is working with the province to identify property damage as part of a Disaster Recovery Program.
If you were affected by the July 18 storm, please fill out the following form: (form no longer active)
August 9, 12 p.m.
Next steps to rebuilding
📂 Cypress County ratepayers directly affected by the July 18 storm can now apply for development permits free of charge as they start to rebuild.
Permits, required for structures such as new houses, additions, garages, shops, or sheds, can be acquired by filling out an application available online or at the county office.
Not sure if you need a permit? Here are some tips:
- You can email your completed permit application to planning@cypress.ab.ca.
- A surveyed plot plan may be required with some permits.
- Permits are not needed for temporarily placing a storage container until a new shed or building is constructed
- You don't need a permit to plant trees or install fences, but if you're planting near a public county road, please contact our office first.
- On lands classified as agriculture, farm buildings under 500 square feet, grain bins, and corrals do not require a permit, but do need to meet setbacks from property lines and roads.
- Anyone needing inspections or permits required by the Alberta Safety Codes Act can contact either Park Enterprises or Superior Safety Codes for more information.
🗑️ The waste bins alongside Highway 523 have been extended again until Aug. 15.
August 3, 11 a.m.
Cypress County will keep waste bins in the affected area alongside Highway 523 for one more week, until Monday, Aug. 8 to allow for cleanup from the July 18 storm.
July 20, 3:45 p.m.
Scope of storm damage shown
New mapping from Cypress County shows wide-ranging damage from the July 18 storm which caused extensive damage near Highway 523, also known as Holsom Road.
Using drone footage taken Tuesday, July 19, county experts have drawn an area where the worst damage was done during the extreme weather event. Affected residents and landowners in the area are being prioritized in the county's emergency response, with waste disposal bins already deployed, social services offered, and further options being considered as the true impact of the storm is revealed.
"What happened Monday was absolutely terrifying for many of our friends and family," says Cypress Chief Administrative Officer Tarolyn Aaserud. "We can see now that the impact was significant, but our community is coming together and will rebuild."
No less than 21 residences were in the hardest-hit area of the storm, with buildings either severely compromised or destroyed completely. Debris and lesser wind damage is still visible further away.
Waste bins have been placed in the affected area along Highway 523. The Seven Persons transfer site, usually closed Wednesday through Friday, is open with extended hours (10 a.m.-6 p.m.) until Sunday.
Monday's storm has left not only physical damage but trauma to residents, and the county has an agreement in place with Medicine Hat Family Services to cover three counselling sessions through the end of September for those directly impacted.
The Canadian Red Cross continues to assist families in need, including three who required shelter.
The county will continue to evaluate its response, and anyone directly affected is asked to contact the office at 403-526-2888.
July 20, 12 p.m.
We know Monday's storm has traumatized many and have counselling services ready for those who need it.
Cypress County has an agreement in place with Medicine Hat Family Services (403-526-8026) to cover three sessions until the end of September with anyone directly affected by the July 18 storm.
If you're in need, register with the county first (403-526-2888 or at our office in Dunmore).
Red Cross continues to assist a handful of families who were displaced.
July 19, 6 p.m.
We can't believe we have to say this, but do not go on other people's property.
County crews have installed barricades for some homeowners because strangers were trespassing.
We have informed the RCMP and trespassing is an offence. These people have enough to worry about right now.
July 19, 12 p.m.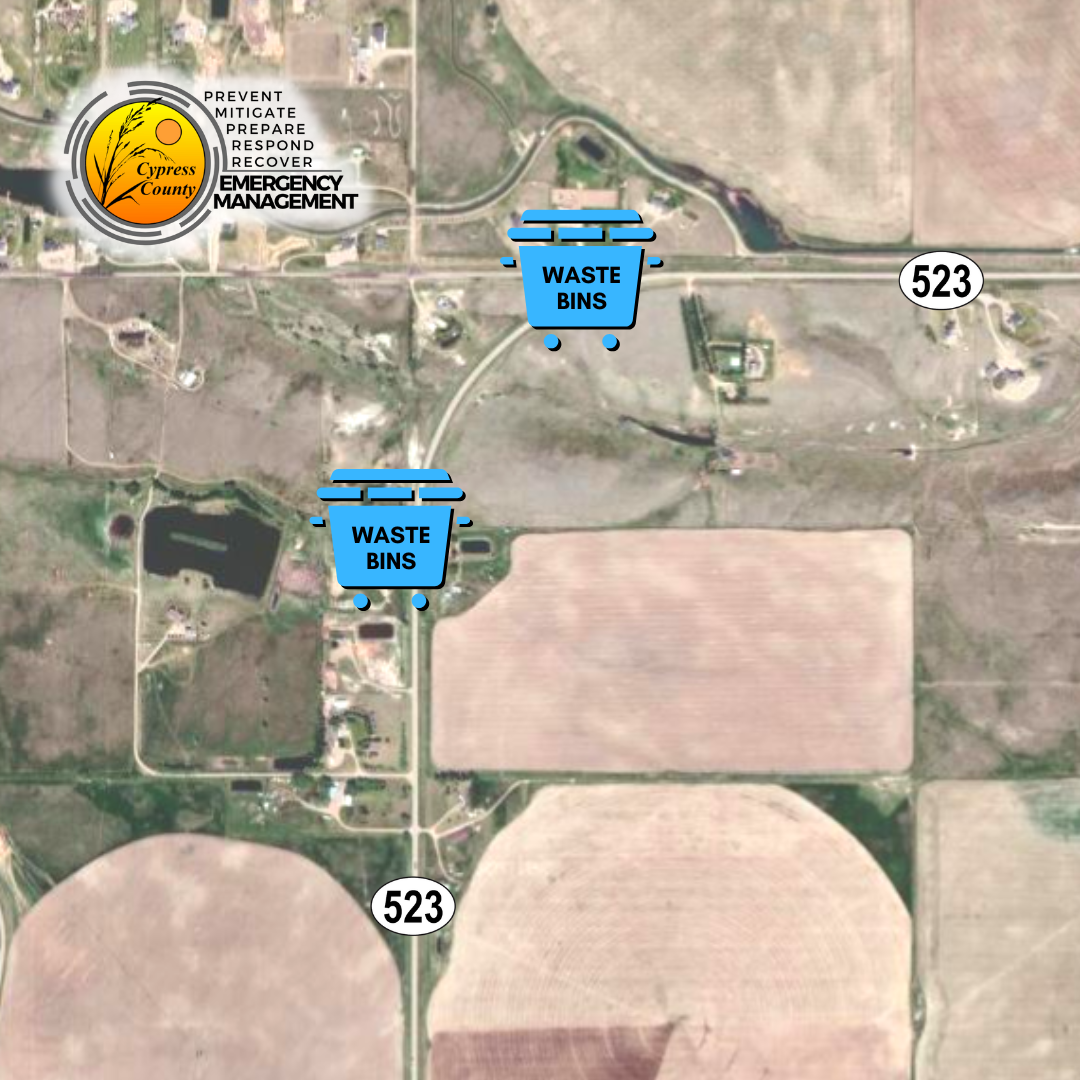 ⚠️ An update on yesterday's storm:
- We have been busy clearing roads, ensuring families have places to stay, and responding to residents.
- Three families have been provided lodging. Anyone else displaced should contact us for assistance (403-526-2888).
- Waste bins have been placed near the affected area (Highway 523, see map).
- The Seven Persons transfer site is open until 8 p.m. today, then 10 a.m.-6 p.m. Wednesday-Sunday
Thank you for your patience and for looking out for your neighbours.
July 18, 5:05 p.m.
Anyone displaced who requires assistance should call the county (403-526-2888).
July 18, 2022, 4:12 p.m.
FORTIS reports 337 customers are still without power. They estimate service will be restored around 6:30 p.m.
Cypress County has updated the Tornado Alert. This alert is in effect for: Cypress County. A storm with dangerous and damaging winds has occurred in the area of Highway 523 and has caused damage to homes and vehicles in the area.
Be on the lookout for funnel clouds and take precautions as required. If you are in the affected area: Take all necessary precautions. Follow the directions of local authorities, and listen for further updates.
A detour is in place along Township Road 122, and east to Range Road 71, and south to Highway 3.
Anyone requiring assistance, please come directly to the county office in Dunmore. Call us at 403-526-2888. TELUS and FORTIS are experiencing service disruptions, 9-1-1 service may be affected.