The Evolution of Cypress County: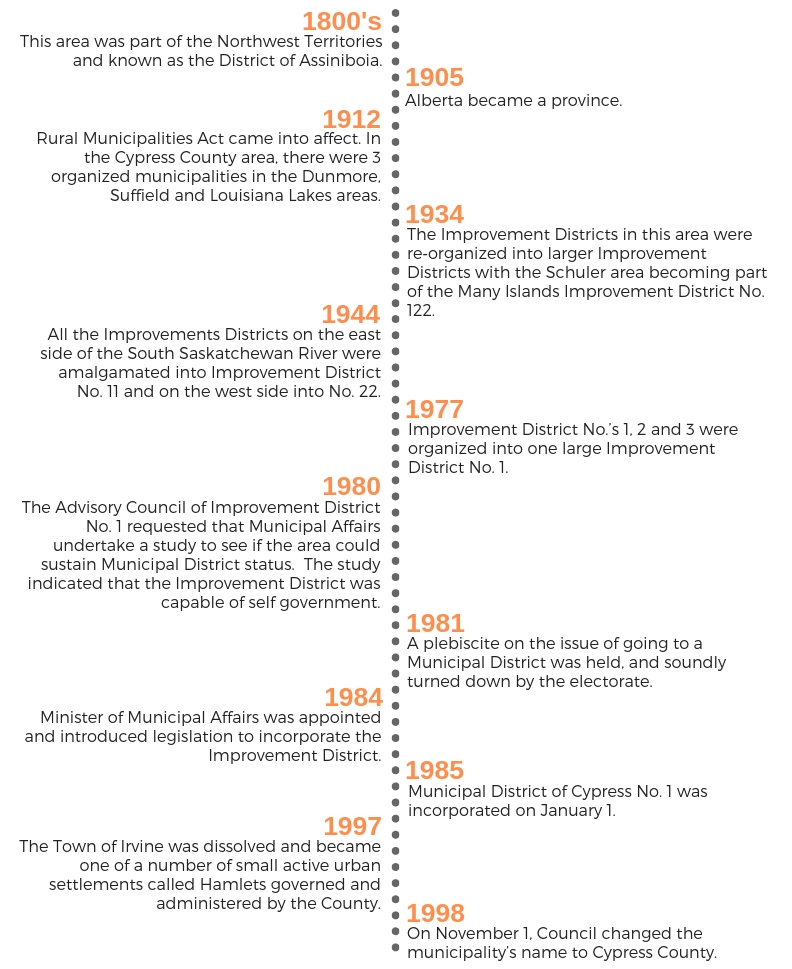 When the area of Cypress County was settled over a century ago, many settlements developed and parcels of native grassland were plowed up for planting cultivated crops. Many small, self governing municipalities incorporated, but the drought and depression of the dirty '30s caused great hardship. Farmland was abandoned and with little or no tax revenue, the municipalities dissolved. The provincial government took back much of the land under a tax recovery process.
The province assembled the land into Improvement Districts, where the Minister of Municipal Affairs was responsible for providing all services in the area, including the levy and collection of taxes. Advisory councils were appointed to assist with administration of the district.
In 1941, 2,700 square kilometres northeast of Medicine Hat became Canadian Forces Base Suffield, an ideal army training and testing area due to its remoteness.
Eventually, as tax revenue increased and the area became sustainable, the Improvement Districts were amalgamated, with incorporation as a Municipal District occurring in 1985.
For a more personal look at agriculture, community life, native history, North West Mounted Police (NWMP), postal services, wildlife and plants, interesting regional facts and origin of names take a look at:
Celebrating Our History